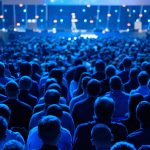 Welcome to the Web3 Wave Summit
The premier event dedicated to exploring the revolutionary world of Web3 technologies and blockchain innovations. Our summit brings together visionaries, thought leaders, entrepreneurs, and enthusiasts from around the globe to dive deep into the future of the decentralized internet and its potential to transform industries.
At the Web3Wave Summit, our mission is to foster an open and inclusive dialogue surrounding Web3 technologies, decentralization, and the vast possibilities they present. We aim to inspire, educate, and empower individuals and businesses to leverage these cutting-edge advancements for positive change and growth.
They live in different universes. Engaging in politics or IT, making cheese or baking the most delicious cookies in the world.